Eight08.net featured ride : Alfred Decierdo's 1964 Volkswagen Beetle | 3.2.19

I've always had a place in my heart for aircooled Volkswagens. I got exposed to aircooled Volkswagens growing up in Kalihi back in the 80s thanks to my Uncle Geoffrey Balanay, my cousins Andy Balanay and Christine Butac, and numerous friends that I grew up with. Now in 2019, I still have a love for aircooled Volkswagens. Checking out the annually held VW Club of Hawaii's Shaka Weekend as well as the Vintage Volkswagen Club Of Hawaii's Bugs At The Park events has allowed me to reunite with old friends as well as meeting new friends within Oahu's Volkswagen Community. And with reuniting with old friends as well as meeting new friends within Oahu's Volkswagen Community, this interaction has allowed me to at times feature one of their custom rides within our website over @ www.eight08.net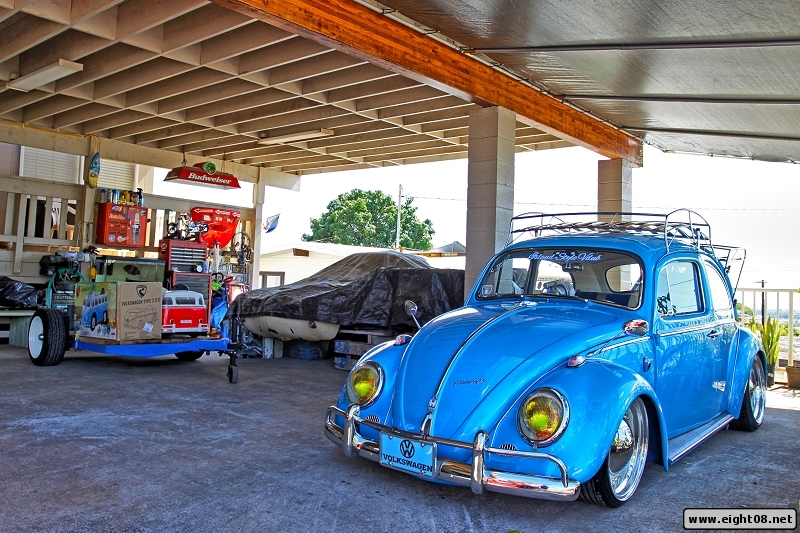 Through numerous car shows & meets, I've met, interacted, and have come to befriend Alfred Decierdo and his 1964 Volkswagen Beetle has been one of those custom aircooled Volkswagens that I've been wanting to feature for sometime now on our website over @ www.eight08.net. Luckily for yours truly, the sun, the clouds, and the blue skies all aligned on Sunday, March 2nd, 2019 and I was able to setup some intimate time with Alfred Decierdo and his 1964 Volkswagen Beetle for a photo & video shoot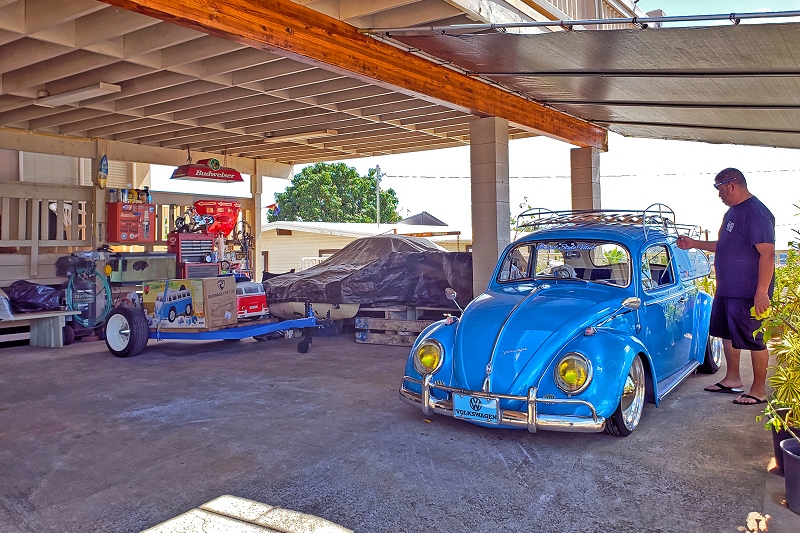 I met up with Alfred Decierdo at his home found within Makakilo, Hawaii. The view from atop Alfred's balcony was straight up beautiful!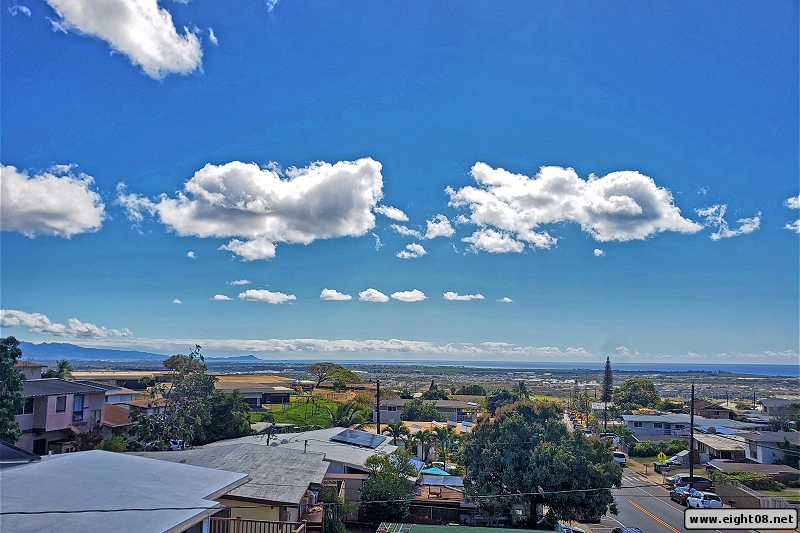 We talked for a brief moment in regards to what I had planned for our photo & video shoot with his 1964 Volkswagen Beetle. The location for our shoot that I had chosen was within the Kaka'ako area where numerous Pow Wow Hawaii artwork could be found canvassing the neighborhood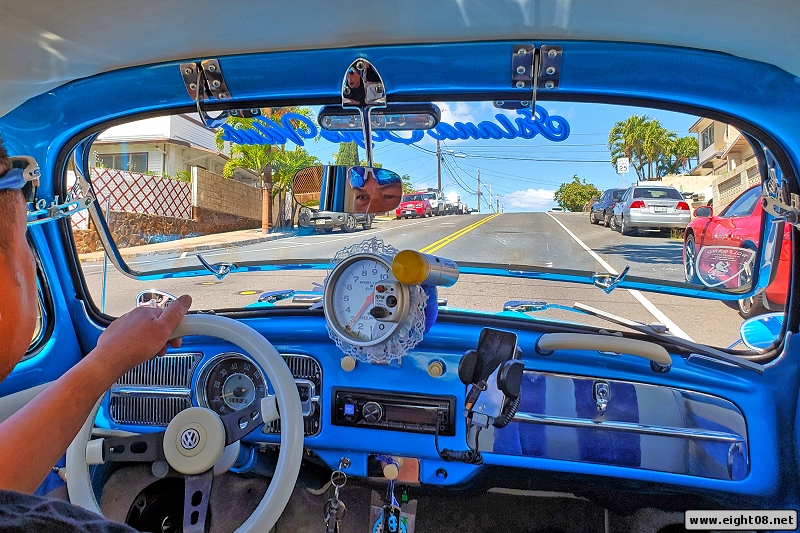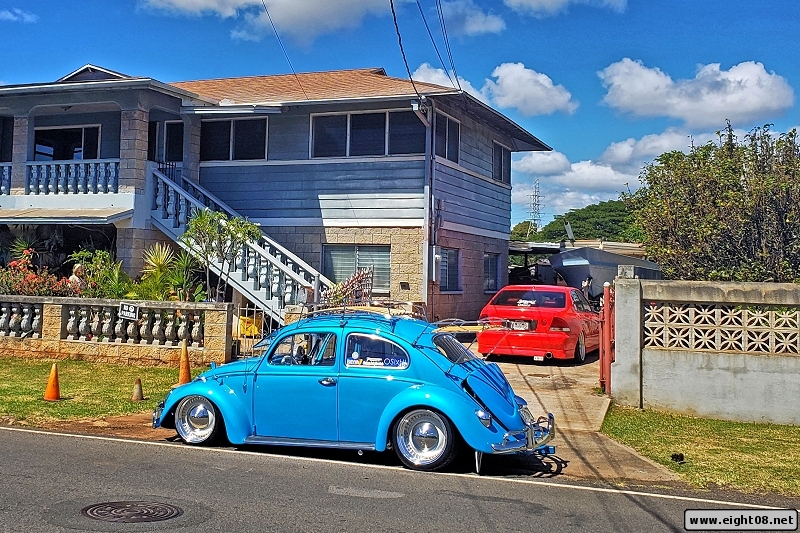 We stopped by my home for a quick stop being I had forgotten to bring my battery for my Panasonic GH4 DSLR. This stop gave me an opportunity to mount my GoPro onto Alfred Decierdo's 1964 Volkswagen Beetle as we continued our drive towards town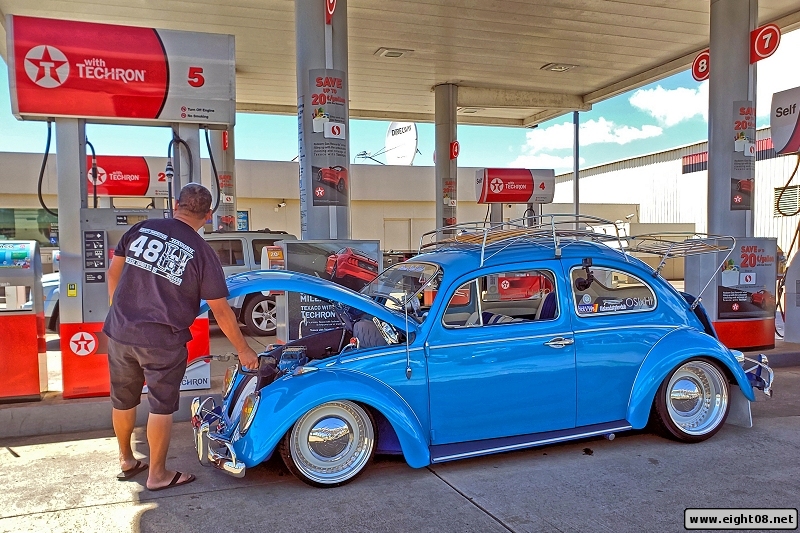 The obligatory gas station shot. Fill her up!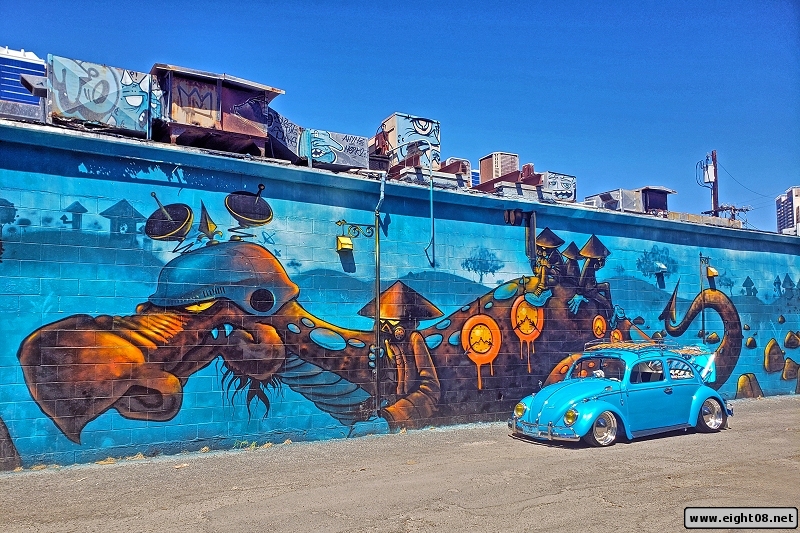 And we are here in Kaka'ako! Now our photo & video shoot begins!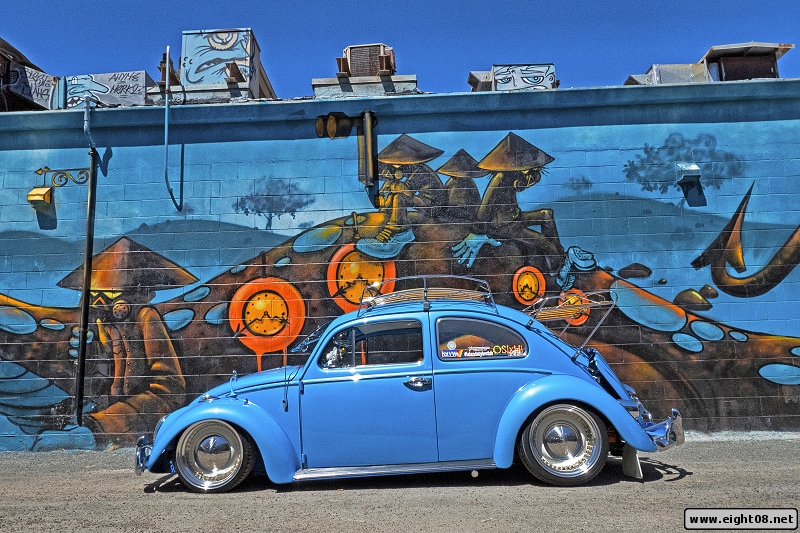 Like many automotive enthusiasts out there including yours truly, Alfred Decierdo's 1964 Volkswagen Beetle started out as a daily driver. One thing leads to another, which leads to another, which leads to another, which leads to another, and sooner of later you end up with a show worthy daily driver.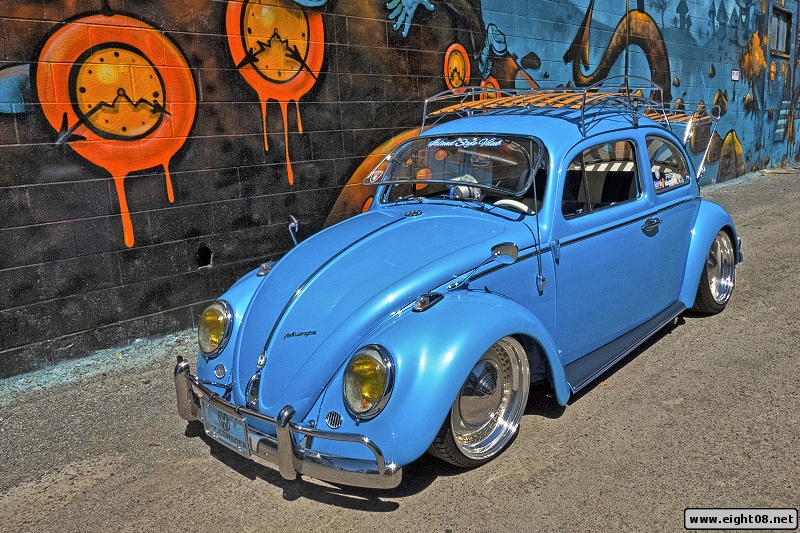 A bus driver by trade for TheBus, Alfred Decierdo' drives his 1964 Volkswagen Beetle on the weekends as often as possible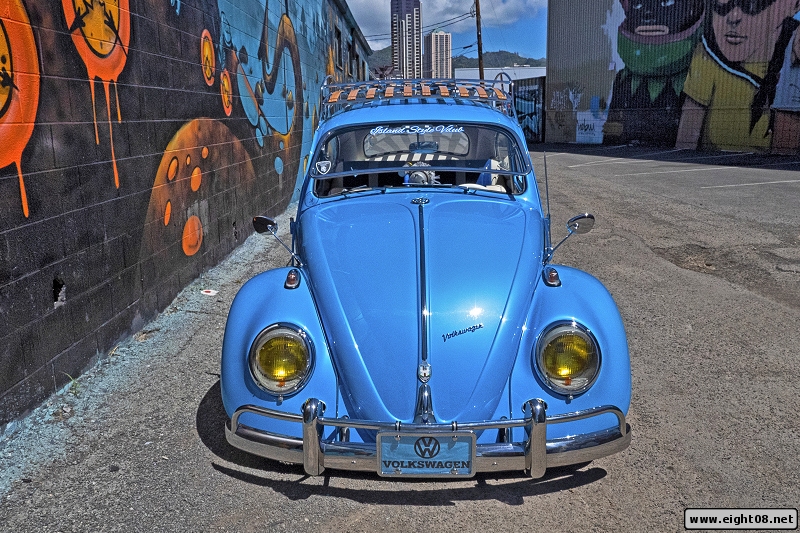 Exterior wise, Fred Lopes of Fred's Auto Body in Waianae, Oahu stripped down the beetle to bare metal as well as repairing rust work that needed to removed. As Fred Lopes of Fred's Auto Body was doing the body work, Alfred and his wife Janet Decierdo needed to decide on a new color that their 1964 Volkswagen Beetle would be rocking. While looking through numerous color books, the two decided on a Hot Hues Bomaby Blue that was provided by Dupont USA. After prepping the beetle for paint, Fred sprayed the beetle with a good amount of Dupont color coats followed by numerous coats of urethane clear. After the fresh paint had cured, it was color sanded and buffed out to a mirror like finish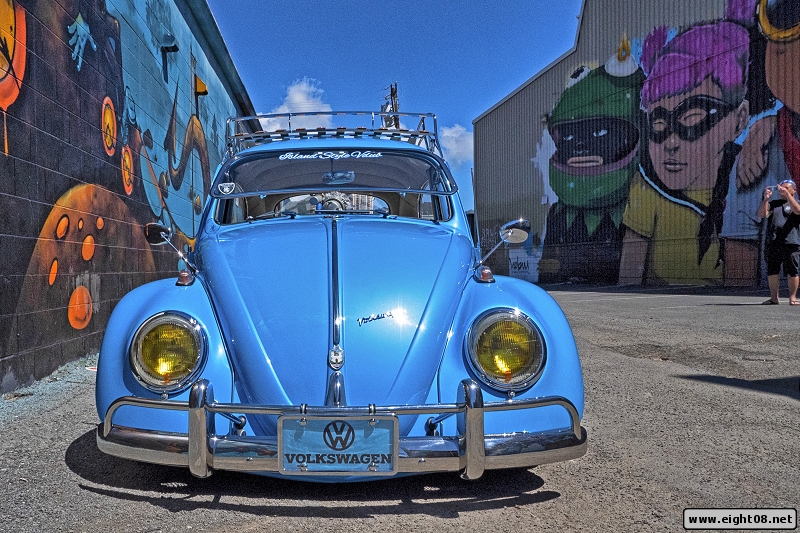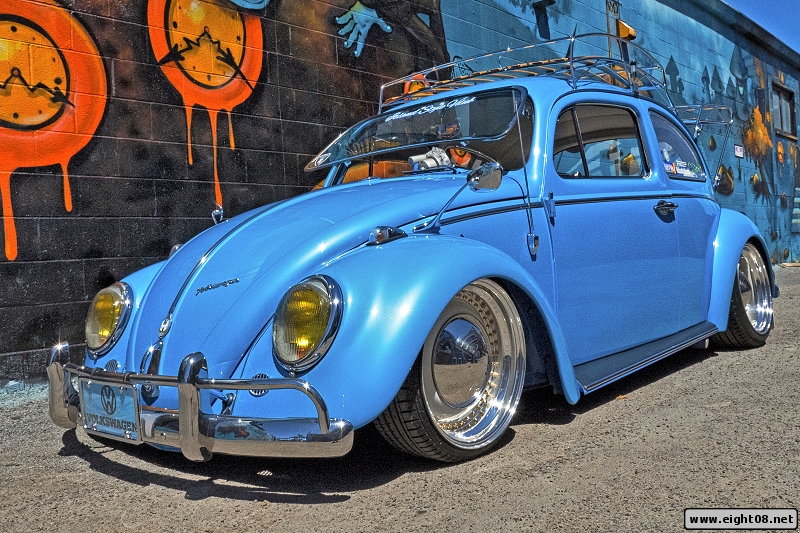 Exterior accents includes rechromed trimmings, door handles, antenna, front & rear stainless steel ISP bumpers, and rear license plate & taillight housings. The Egg Lights found within the rechromed taillight housings adds the icing to the cake. Foreign Concept's J Racks can be found atop the beetle as well as their mud flaps which can be found beneath. Alfred also owns a Foreign Concept's VW Cooler to help his drinks stay cool throughout his drives in Hawaii Nei. A custom tow hitch made by a friend of Alfred allows him to tow his trailer throughout the numerous car shows found here on our island of Oahu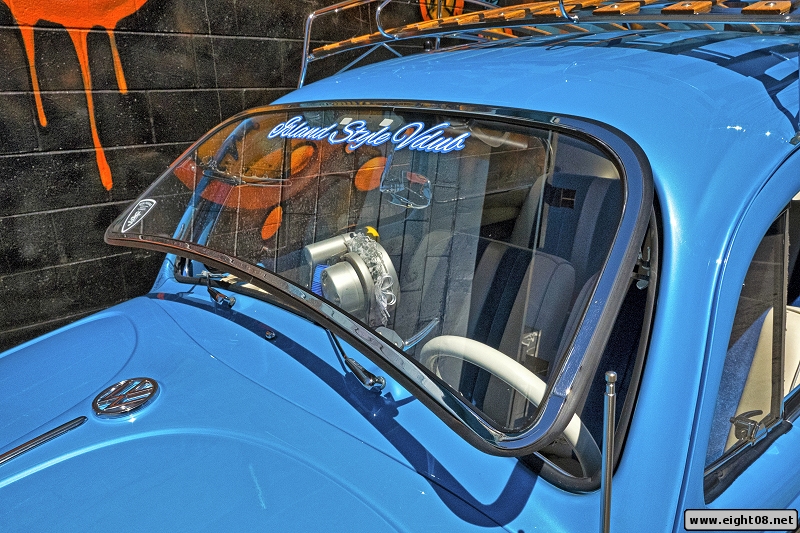 The Safari windows front window kit created by Wolfgang International allows the local hawaiian breezes to flow into the cabin of Alfred Decierdo's 1964 Volkswagen Beetle. Perfect addition for those hot hawaiian days!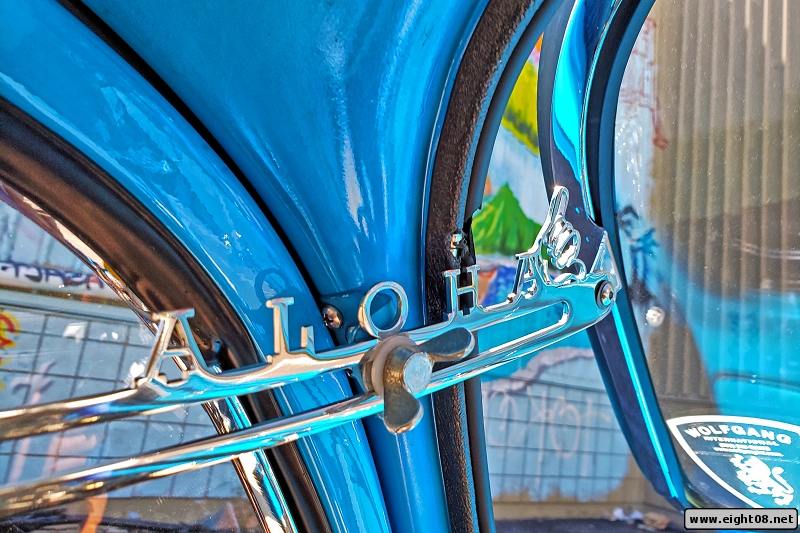 Many, many small touches such as these custom "Aloha" Safari Sliders created by RIverside Customs aka Devious Dubs that can be found within Alfred Decierdo's 1964 Volkswagen Beetle all add up to a fully customized and personal build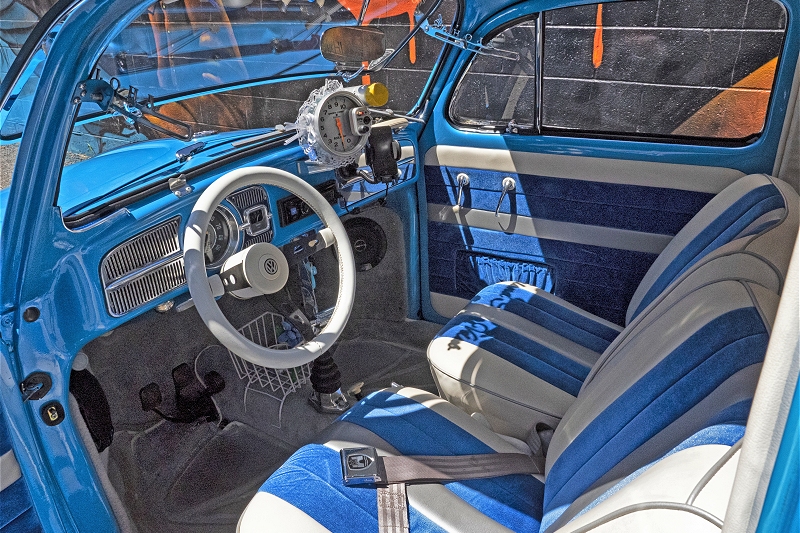 Interior wise, Alfred & Janet Decierdo decided to go with a blue, silver, and off white color combination. Al Cadelinia of Al's Upholstery located in Waipahu, Oahu did all the stitching, seat rebuilding, and custom made panels found throughout the Beetle. Blue velour was used for the pleated seat inserts and door panels while the silver & off white vinyl work was added throughout the interior to add a bit of contrast. The headliner was also reupholstered with Super White Vinyl to finish off the interior. Accenting the interior is a Scat steering wheel, a Gene Berg shifter, Auto Meter Monster tach with Pro Lite, and a complete Alpine stereo system installed by Alfred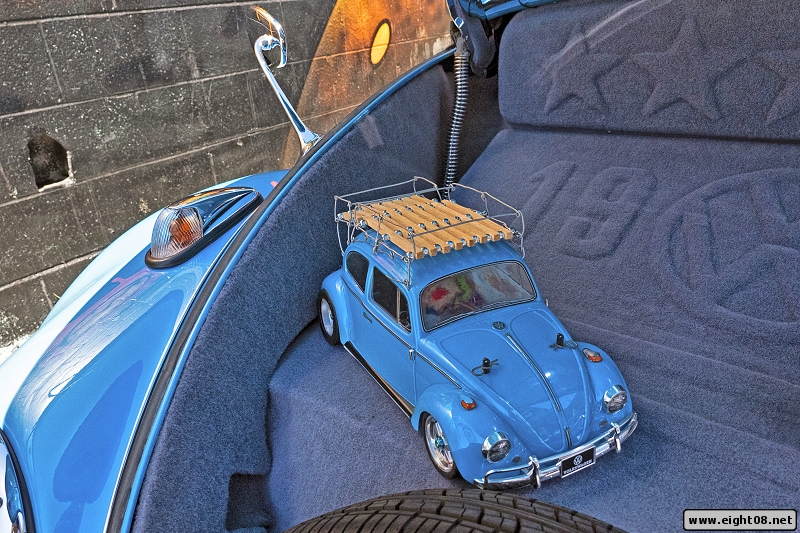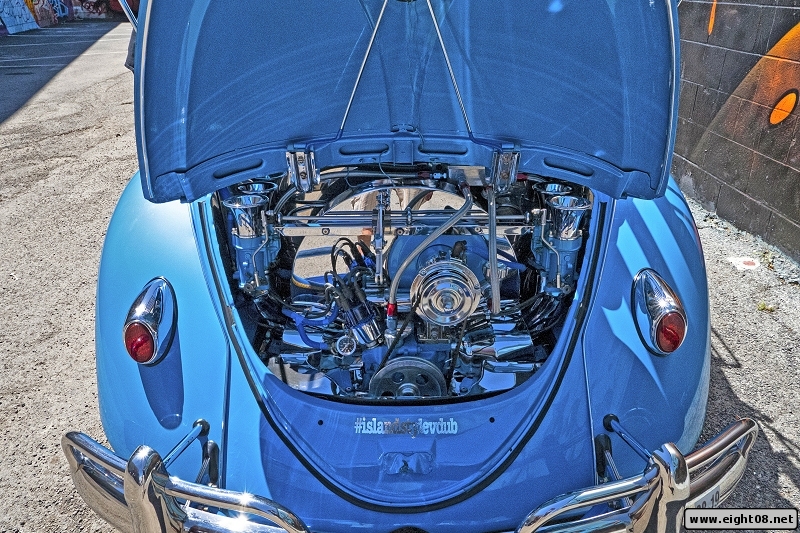 Engine wise, Alfred Decierdo's 1964 Volkswagen Beetle features a stout 9.0:1 compression ratio blueprinted & balanced, chromed out, polished, & painted 2180cc motor built by Darrell Naeole of Wahiawa, Oahu. The iconic "Hawaiian Style" dual Weber 48 IDA carburetors were added into the mix and features Big Beef intake manifolds and chrome plated velocity staicks & blue anodized billet "48 Special" jet covers by JayCee. Internals include a Berg 82mm counterweighted crank, 5.5 inch VW Performance Rods, 92mm pistons & cylinders, Engle 140 cam (.465 lift, 313 duration) with Magnum straight cut gears, low profile racing lifters, 42x37mm stainless steel valves, and solid rocker shafts with 1.1 rockers. Other enhancements to the engine includes Type 1 VW dual port heads that had been welded & ported as well as it's spark plugs location relocated, Bosch 009 distributor, Bosch coil, NGK D8EA spark plugs, 1.5 quart deep sump, and a Melling full flow oil pump. The exhausts are dumped through a Empi 1 5/8″ header finally exiting the beetle via a stainless steel side winder muffler
The engine block and Weber 48 IDA carburetors were detailed with color matcheded thanks to Kamaile Almeida of Undertaker Designs. Everything found within the engine bay that could be removed which included the Jaycee Stacks, Gene Berg linkage, fan shroud, alternator, and a host of other numerous parts were sent out to Santa Ana, California home of Chromador Inc., where Robert Henriquez did the chroming. Hard lines and billet fittings rounded off the bling with this imaculately built engine build
Transmission wise, Darrell Naeole with the help from Alfred assembled, rebuilt, and beefed up the swingaxle transmission and now houses a Super-Diff, 4.12 ring & pinion, stock gear ratios, along with a pair of heavy duty aluminum side cover plates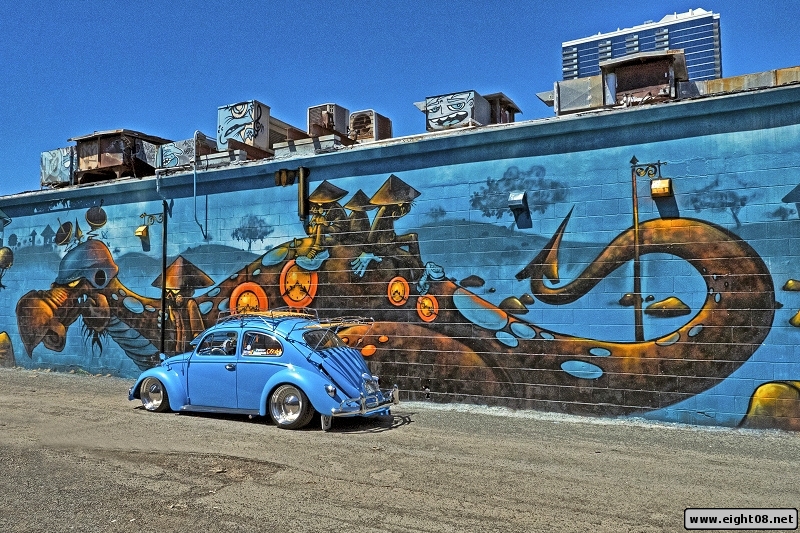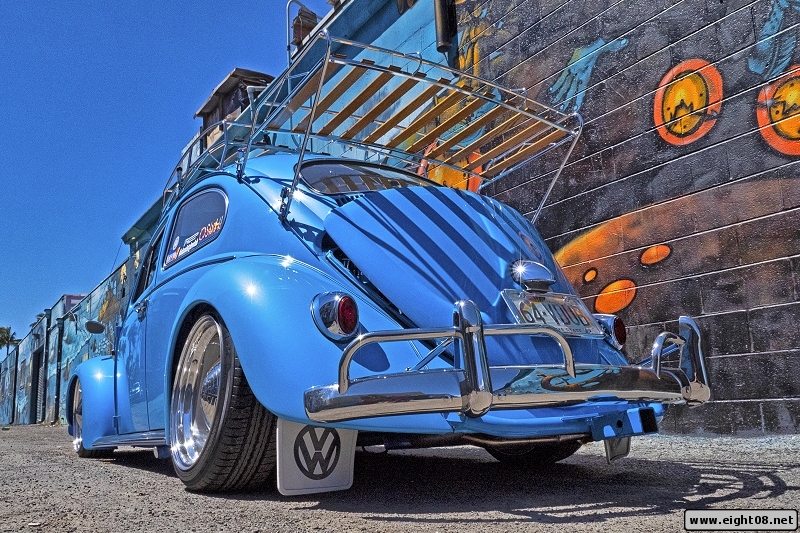 Chasis wise, Alfred Decierdo had cleaned up the chassis followed up by a little detailing with some coats of Dupont's Hot Hues Bombay Blue. The suspension and brakes were modified with aftermarket brake hubs on all four corners, a two inch narrowed beam with adjusters, chromed axle tubes, and the rear spring plates were adjusted up two notches to bring down the beetle to a reflector light scraping stance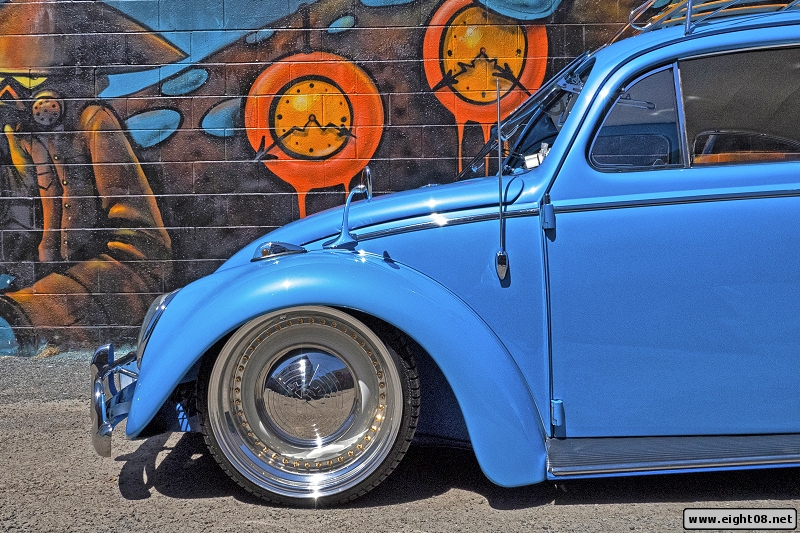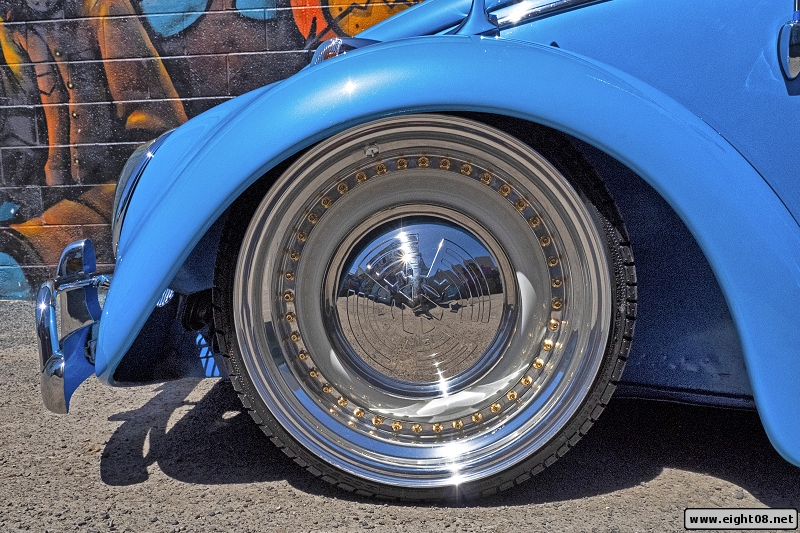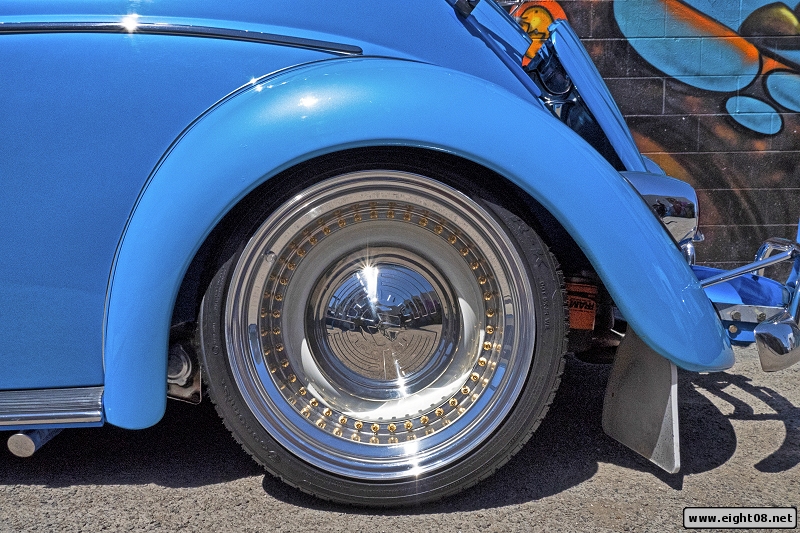 Wheel & tire wise, Alfred Decierdo's 1964 Volkswagen Beetle is currently rocking a custom made one off 3 piece 17″ set of wheels. And if you didn't know, well now you know! Alfred Decierdo owns probably 5 sets of wheels allowing him to change the looks of his beetle at the flip of a dime. During Alred's photoshoot and feature with HOT VWS Magazine, his beetle was rocking chrome plated Empi 4.5×15 alloys up front supplied by Riverside, California's Car Craft Store and their manager Ron Vanderschaaf which was also paired with their front disc brake kit, and chrome plated Porsche Fuchs wheels in the rear paired with all new rear drums set up with Porsche 5x130mm bolt patterns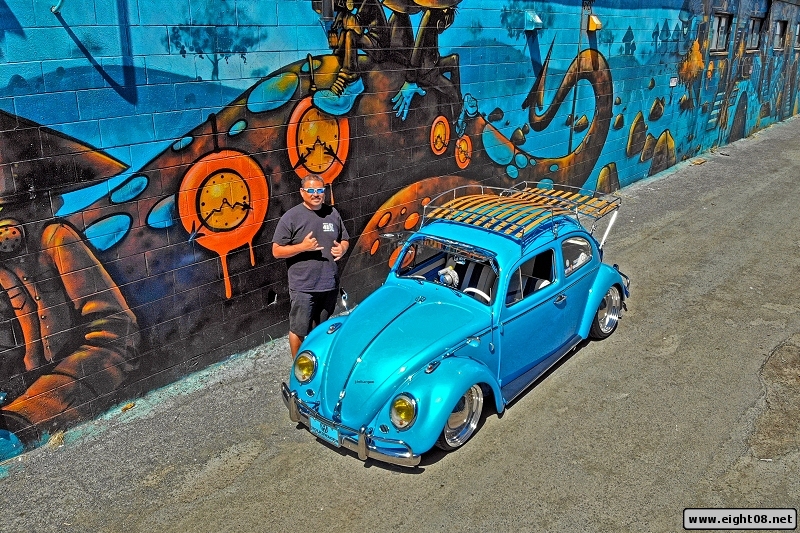 Alfred Decierdo would like to thank first & foremost his wife Janet, their son Brandon, and their daughter Brittany. Much mahalos to Darrel Naeole for building the engine and transmission, Kono Quintana for the tech advice via numerous phone calls, Alvin Cadelinia of Al's Upholstery for his upholstery work, Kamaile Almeida for the color matching & minor touch ups, and last but not least his VW Ohana for all their help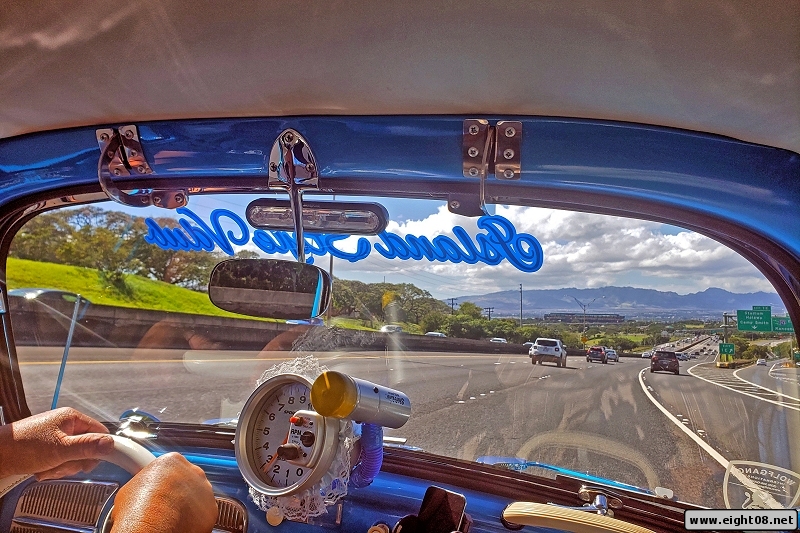 And it's a wrap! Time to go home! Thank you for sharing your Sunday Funday with yours truly my brother!
XOXO,
Peter Rosario